Nightmare
Edition
Scary & Cute, the perfect combo
WHY JOIN THE WODBOXX
Easily pause, skip, or cancel any time
Never before seen goodies.  All designs are exclusively released for WODBOXX. 
Complete a quick survey and let us know your sizing preferences to get started.  Easy gifting options, too!
Save money from your fav brand every month. PLUS, get extra goodies from partnering small businesses – all curated with care just for you!
JOIN BY OCT 3RD TO GET THE 'NIGHTMARE EDITION' BOXX
SHIPPING OCT 6TH
WHAT'S IN THE BOX THIS MONTH?
Are you a Petal Head?
Rock your workout with the new September WODBOXX, featuring the Petal Heads 3.25" Shorties and a microfiber towel. 
✔️  3.25" Inseam OG Shorties
✔️  Althetic racerback tank
✔️  Vigilant Liquid Chalk
✔️  Fun mystery sticker
✔️MIX2GO suppliment container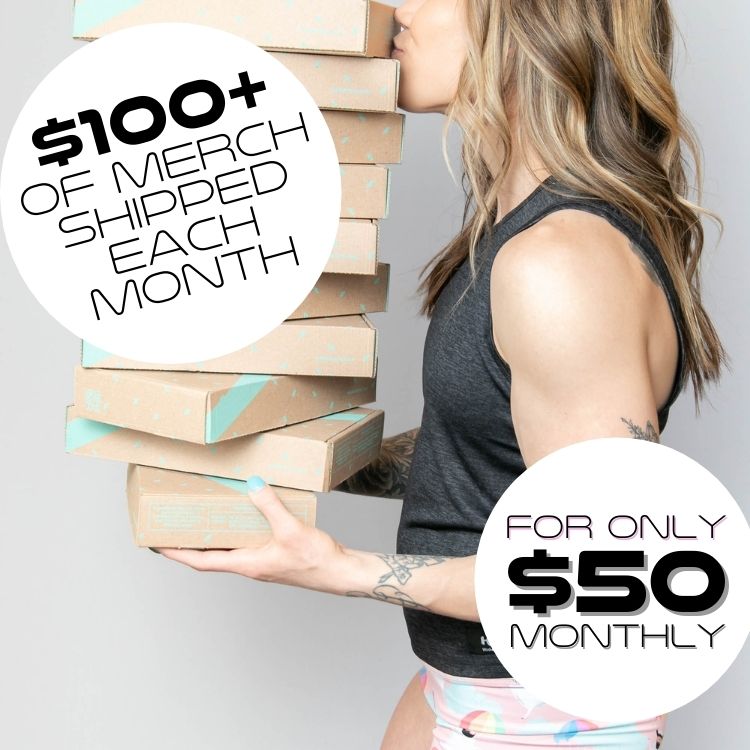 Exclusive deals and specials you can only get with WODBOXX.
$100+ in WodBottom exclusive merch and products from other small businesses. All this for $50 with FREE shipping.
Great deals, easy to sign up, and cancel or pause your membership at any time.
YOUR MONTHLY DOSE OF WODBOTTOM
Welcome to WODBOXX by WodBottom! Every month, you'll fall in love with the goodies we create exclusively for WODBOXX subscribers. You'll also get incredible products from other small businesses, all curated just for you!
Tis the season of nightmares. These OG Fabric shorties are just what your tush needs, something pretty scary...or scary pretty.  The perfect mix of compression and stretch, the O.G. fabric is a 87% polyester/13% Supplex blend that keeps you comfortably supported. 
FOR: Your tough workouts where you legs need to be free
FEEL: OG Fabric is soft, smooth, and a mid-compression hug. See other shorties using this same fabric
INSEAM: 3.25" Inseam, single lined shortie
Black Lined Square Gusset = No Camel Toe
Non-See Through & Totally Squat Proof Fit has been perfected to accommodate the the butt and thighs of a strong woman
Where is your homeland? Not where you grew up, but where your soul is really from 🤣 
This tank is soft, wicks moisture, and resists snags.  
Vigilant Performance and Athletics premium liquid chalk is specifically designed for extreme workouts and sports.
Made from premium magnesium carbonate and an exclusive formulation of bonding agents. Vigilant Liquid Chalk lasts longer, has more grip, less mess, and a hint of high-end fragrance! This liquid chalk is designed to last through the most grueling workouts and sports without reapplication.
MyMix2go is made for those that like simplicity on the go. Whether you want to use the container to take your supplement powder mixes, vitamins or small snacks on-the-go, or you want to use our products convenient funnel compartment to transfer them into a bottle. This container was designed so you can take your mix HOW you want it, WHEN you want it, and WHERE you want it. What more could you ask for?
/** * @var $module \Ucraft\Module */ ?>
DONNA

I loved everything about the box!!! What is not to love about EVERYTHING one gets in the box.I sit and wait patiently for the beginning of every moth.

Christina

My new favorite company and they give the money back to Domestic Abuse Intervention Services! But, the customer service is even better than all of that! They want you to be happy with your purchases, and I am! This company is the full package. Love them!😍

Neisha

Love the OG fabric for this pattern. Wodbottom makes very fun, motivational patterns that are super funky and fun that are original compared to other brands. Their patterns made me a fast and loyal customer and they stand behind their products.

Christine

Awesome deal!! New to WodBottom and so far love their products! They also have the best customer service!! ❤️

Priya

I love show these shorts feel on my body, and how i feel about myself while wearing them. on top of a great product, the customer service is top notch. i love the personal care you receive when you call them!

Amanda

I love the extra tank and matching set. The sticker was a cute bonus. Including an extra item for us to try is always a plus. For 50 dollars this is a great buy! I do plenty of book boxes,and I've been wanting a fitness box and this one is perfect for that!
JOIN BY OCT 3RD TO GET THE 'NIGHTMARE' BOXX